US Ambassador inquires about security situation in Papua
Mon, November 5 2012 22:39 | 190 Views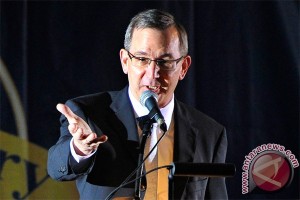 Scot Marciel. (ANTARA)
 "Scot Marceil also touched on Freeport."
Related News
Jayapura, Papua (ANTARA) – United States ambassador Scot Marciel sought information about the security situation in Papua during a visit to the regional military command headquarters here on Monday, according to command spokesman Lt Col Jansen Simanjuntak.
"During his recent visit to the Cenderawasih regional command headquarters, Mr Marciel asked the command`s chief of staff, Brigadier General I Made Agra Sudiantara, about the security situation in Papua," Lt Col Jansen stated.
In response, Brig. Gen. I Mada Agra Sudiantara said the situation in Papua was "peaceful" and security problems were handled by the police, with the military ready to assist upon request – in line with Law No. 34/2004 on TNI (military).
"The law is implemented using `soft power` through territorial supervision, while efforts are being made to accelerate economic development, including improving human resources, in the inland regions so Papua can catch up with other provinces," he explained.
"The command`s chief of staff stated that the presence of TNI forces in Papua is in line with the legal mandate, while maintaining security is the job of the police," Brig. Gen. Sudiantara said.
During his short visit, Marciel also expressed the US government`s support for Indonesia as a sovereign country.
"The US government is also proud of the current developments in the country, especially the changes that have happened in the TNI over the past 15 years," Brig. Gen. Sudiantara pointed out.
"Scot Marceil also touched on Freeport. But more information about it can be obtained from the US embassy. He also called for increased cooperation between the two countries in education, culture and military," he added.
(Uu.H-YH/INE/KR-BSREditor: Priyambodo RH
http://www.antaranews.com/en/news/85433/us-ambassador-inquires-about-security-situation-in-papua
Comments