The Tanna Tupunis Declaration 2016
The Tanna Tupunis Declaration 2016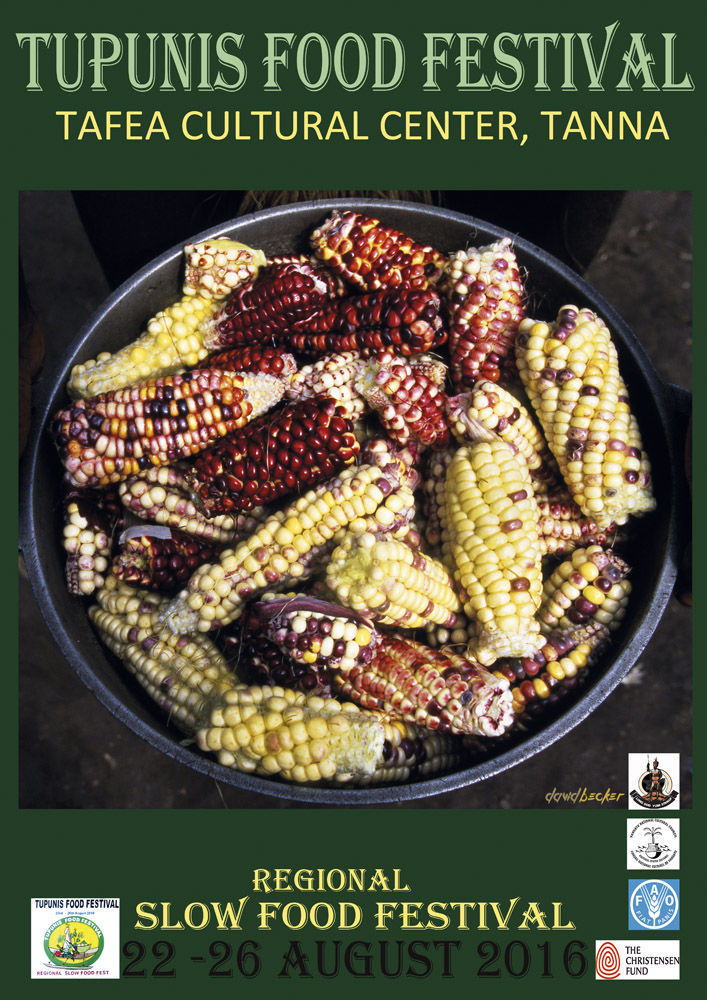 Over one thousand people attended the Tupunis (slow food in Tannese) Melanesian Regional Slow Food Festival held at Lenakel, a small country town on Tanna Island, Vanuatu on August 22-26, 2016.
The Tupunis Food Festival was organized by Slow Food Vanuatu Committee, in collaboration with the Vanuatu Indigenous Land Defense Desk and supported by the Government of Vanuatu.
Participants included representatives from the six provinces of Vanuatu and the five Melanesian countries of Papua New Guinea, Bougainville, Solomon Islands, New Caledonia (Kanaky) and Fiji. There were international participants and observers as well. At the close of the festival a Declaration was signed.
The Declaration states: "We the People of Melanesia including sympathizers of the Slow Food Movement in Melanesia gathered at Lenakel, Tanna Island, Vanuatu to discuss the following issues that affect daily lives in the nations of Melanesia:
1. Recognition and promotion of indigenous foods of Melanesia;
2. Reinforcing the ideologies and benefits of the slow food movement in our societies;
3. Recognizing that imported, fast foods are contributing to non-communicable diseases that contribute to so many untimely deaths of our people;
4. Promotion of cultures of Melanesia, especially those which contribute to systems of food production, preparation, storage and consumption.
We the participants of the Tupunis Melanesian Slow Food Festival, hailing from Papua New Guinea, Bougainville, Solomon Islands, Vanuatu, Fiji, and Kanaky (New Caledonia), also noting the 2014 Lelepa MILDA Declaration, pledge the following:
a. Our recognition of the rich and diverse voices of the indigenous peoples of Melanesia;
b. Our intention to promote our diverse traditional agricultural systems, foods, ways of life and wellbeing of our peoples;
c. That we oppose the devastating effects which fast foods are having on our peoples;
d. To combat the impact of non-communicable disease (such as diabetes, heart disease, and cancers) through the promotion of the Slow Food Movement;
e. Our urgent call to our governments to develop policies that promote a shift back to land and traditional agricultural practices to combat the rise in non-communicable diseases;
f. Make a call to civil society and government to work together to revive and promote respect for nutritious traditional foods and traditional food production systems;
g. Our recognition of climatic factors which are altering our traditional food production, preparation and preservation systems;
h. That the increase in frequency of severe adverse weather effects is altering our food production systems;
i. That the increase in population sizes exert a lot of stress on our food production systems and causing stress on the land, the result of which is we are reaping decreasing yields from our traditional farming areas;
j. We are alarmed by the disastrous impacts of mining on land and in the sea, and logging of our natural environment which are threatening our food security;
k. Our renewed call to our governments to stop destructive industrial developments and instead to safeguard Melanesian customary land for the use by our indigenous peoples to sustain their livelihood today and their future generations;
l. We strongly urge our governments to review our land laws and stop land registration and conversion of customary land to leases and other forms of land alienation, and to ensure our customary lands are returned to their rightful indigenous landholders so that the Melanesian Kastom Economy is revived and safeguarded;
m. We request that our Melanesian governments promote the Slow Food concept including related traditional knowledge, skills and cultural values by including these information in school curricula (both primary and secondary) of Melanesian countries;
n. We request governments to promote the Melanesian Wellbeing Indicators instead of the current gross domestic product indicators, in order to properly value our non-cash traditional economy;
o. We request that the Movement finds a permanent home with the people and within a government entity in respective Melanesian countries of Melanesia; and
p. We note that our brothers and sisters from the Oro Province, Papua New Guinea offered to host the next Melanesia Slow Food Festival in March 2017.
The next province in Vanuatu to host the country's slow food festival is Penama in 2017, by Pentecost Island, which took home the burning firewood, signifying the passing of the torch to the next host.
Jonas Cullwick, a former General Manager of VBTC is now a Senior Journalist with the Daily Post. Contact: jonas@dailypost.vu. Cell # 678 5460922