Vanuatu i kam blong hollem taet Solomon Islands long 0-0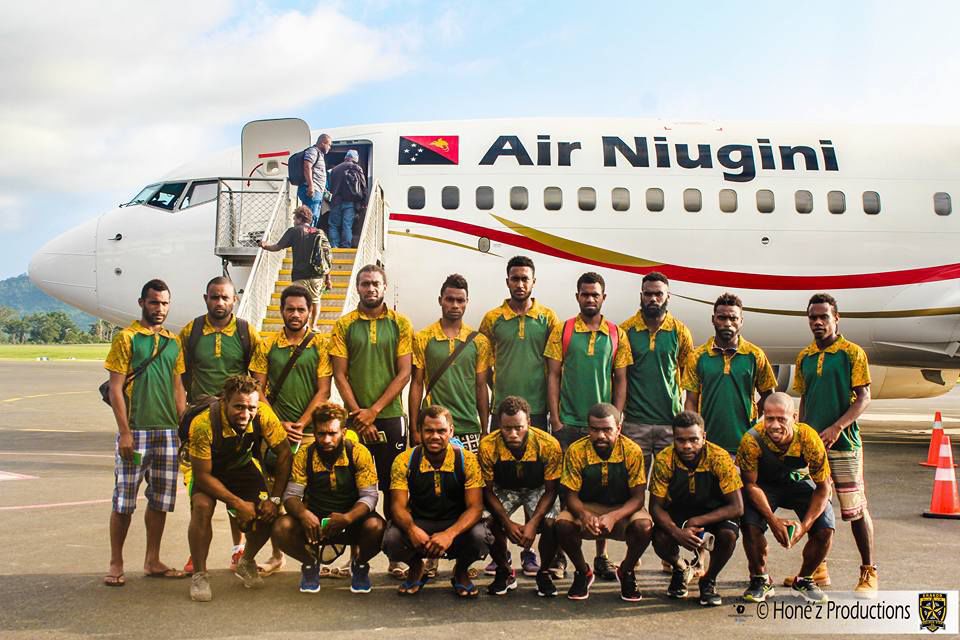 Vanuatu tim we oli bin mit wan taem nomo long Teouma Academy dei bifo oli flae aot mo spendem 2 dei trening sesen long Solomon Islands, oli kam blong hollem taet Solomon Islands long hom graon long wan sko blong 0-0.
Tim we i go daon hemi wan 17 man tim mo insaed i lukim 6 niu pleia, Ronaldo Wilkins, Nicky Nikiau, Leo Moli, Joseph Iaruel Selwyn Vatu mo John Alick oli werem festaem eva Vanuatu senior nasonal kala.
Long fes 5 minit, Sika Manuhi i mestem wan janis wetem Bong Kalo we hemi fosem Solomon kipa, Philip Mango blong mekem wan save insaed 28 yard, taem hemi sutum wan low bol be i go stret long kipa.
Long namba 11 minit, Vanuatu veteran kipa, Chikau Mansale hemi mekem wan kwik save bifo Totori i hedem bol in, blong denyem janis ia long Solomon.
Nomata we Vanuatu hemi dominetem full fes haf, be yet olgeta 'best chances' blong sko i go long Solomon Islands, be yet oli no save konvetem.
Foma Amicale pleia mo naoia Auckland City rep, Micah Lealafa mo Benjamin Totori oli traem everi best blong olgeta blong putum bol bihaen long net be Mansale i denyem olgeta.
Solomon Islands Broadcasting Corporation komenteta we i mekem laef kavarej i talem se Vanuatu hemi moa oganaes bitim Solomon Islands long fes haf afta we sko i stap long 0-0.
Long sekon haf long namba 57 minit, fri kik blong Solomon jas aotsaed long box blong Vanuatu, afta wan Jason Thomas foul long Totori, be i lukim bol i go aotsaed olgeta afta we Vanuatu i laenem ap 6 man long wol.
Afta long fri kik Vanuatu i mekem fes sub blong hem mo i lukim Zika Manuhi i go aot mo Ronaldo Wilkins i kam insaed long 58 minits.
Long namba 60 minit, Jacky Ruben i go aot mo Eddison Stephen i kam insaed.
Solomon Islands oli traem muv fowod wetem olgeta wan taj futbol blong olgeta be oli no save bitim wol blong difens blong Vanuatu nomo, afta we i lukim long namba 60 minit, Jason Thomas i pullum weight blong hem long difens mo denyem Gagame Feni mo Totori we oli traem kam insaed long gol maot.
Long namba 67 minit, wan sut blong Bong Kalo i fosem Mango blong mekem wan sekon save afta we Fenedy hemi go kolosap blong tapem bol in long net.
Vanuatu hemi mekem sekon sub blong hem long namba 69 minit, Vanuatu kapten, Fenedy Masauvakalo i go aot mo Nicky Nikiau hemi kam in. Wetem jenis ia i lukim Bong Kalo fes taem eva we hemi lidim wan nasonal senior tim, taem oli handem kapten arm band long hem.
Long namba 78 minit Chikau savem wan one on one bol wetem Solomon fowod, Atkin taem we Vanuatu difens i feil blong makem hem, be laki se veteran kipa hemi denyem janis blong Solomon Islands ya.
Long namba 80 minit, Ignace Iamak hemi go aotsaed mo leko spes blong hem long U20 difenda, Selwyn Vatu.
Long namba 87 minit taem we tugeta tim i stap push blong faenem wan wina, Solomon Islands difens i foulem Leo Moli foul aotsaed long box mo Bong i jas sutum bol ia long kros ba.
Rafri George Time hemi blowem faenol wisel blong putum faenol sko long 0-0 long tugeta saed.
Man of the match blong Vanuatu, hemi kipa, Chikau Mansale we i mekem plante save blong denyem Solomon Islands long fored blong gol.
Samfala Solomon Island fans oli leko stadium bifo maj hemi finis, maet ating oli no glad long pefomens blong tim blong olgeta, be from Vanuatu hemi press antap mo dominet kasem end blong maj i mekem se Solomon i lusum gem blong olgeta.
Wan Solomon fan i talem long Social Media se i gud nomo hemi no westem mane long maj ia bambae hemi wet nomo long maj wetem New Zealand.
Vanuatu interim hed koj, Moise Poida, hemi talem afta long maj se, "Mifala i givim best blong mifala blong save mekem gem ia blong karem wan gudfala risal be from 'lack of tactical combination' long fored, blong save go thru long difens blong Solomon, hem nao i hollem taet mifala.
"Nomata we hemi wan las minit skwad, oli plei rili gud mo mi hapi blong luk olgeta boe oli givim everi best blong olgeta. Samfala i go long hospital long medel naet, olsem Jason Thomas, from hemi sik kasem 10 klok long moning, 3 haoa bifo maj i stat. I mekem se hemi mas drink hamas tablet blong hollem taet hem nomo from tim i nidim hem, be i luk hemi hollem taet hem wan kasem end blong maj."
Taem we Daily Sport i askem long koj Poida weta bambae hemi jenisim o addem sam moa niu pleia long tim ia blong Pacific Mini Games, hemi talem se, "Tim i nidim smol jenis nomo, midfil i kam daon long difens i oraet fored nomo blong finisim."
Wetem risal ia hemi soem wan gudfala saen finis long Vanuatu futbol se olgeta nekis jeneresen oli save step in long shoes blong olgeta we oli stap go aot, mo naoia hemi taem blong Vanuatu hemi statem olgeta preperesen from Pacific Mini Games long manis Disemba long hom graon.
Raymond Nasse
Sports Editor
Comments