Smol Melanesian Na Pasifik Nius Digest Summary # 1134 (Sunday 08 September 2019)
MELANESIA:
1a) https://www.abc.net.au/news/2019-09-04/west-papua-latest-protest-over-referendum-for-independence/11471016?section=world
1b) https://www.abc.net.au/news/2019-09-06/west-papua-fight-for-independence-fuelled-by-race-riots/11480524?section=world

1c) https://www.abc.net.au/radio-australia/programs/pacificbeat/pro-indonesian-bot-network-unearthed-on-twitter/11484522

1d) https://www.rnz.co.nz/international/pacific-news/398273/jakarta-blames-papua-unrest-on-independence-movement

1e) UN rights chief urges Indonesia to engage with Papuans on aspirations

1f) NZ 'deeply concerned' by West Papua violence

6 September 2019 Share this
New Zealand's government says it's "deeply concerned" by recent violence in Indonesia's West Papua during protests which have rocked the country.At least 10 people have been killed in separate clashes between Papuan demonstrators, security forces and vigilante mobs.

Dozens of protestors and activists have been arrested by Indonesian police, which have deployed thousands of extra personnel to the region.
New Zealand's Foreign Ministry said it was closely monitoring the security situation and has raised concerns with Indonesian authorities.
It said it has encouraged Indonesia to facilitate a visit to Papua by the UN High Commissioner for Human Rights, reiterating a call from the Pacific Islands Forum.
"We have urged Indonesia to respect and protect the human rights of all its citizens," a Ministry of Foreign Affairs and Trade spokesperson said.
"New Zealand recognises Papua as part of Indonesia's sovereign territory. We continue to encourage Indonesia to promote peaceful social and economic development in Papua."RNZI
1h) Indonesian gold miners killed in West Papua 5 September 2019
Share this
Five gold miners in West Papua's central highlands were killed by local residents on Monday.
National police spokesperson Dedi Prasetyo said 74 miners were evacuated from Yahukimo regency after being attacked.
Three miners were also injured by the residents, who were armed with machetes, bows and arrows.
Mr Prasetyo told Reuters it was unclear whether the incident was linked to growing unrest across Papua.
A spokesperson for the West Papua Liberation Army, a rebel group operating in the highlands, said the gold miners were Indonesian immigrants, killed because they "came to Papuans lands and stole the gold from indigenous Papuans lands".
The Liberation Army did not claim responsibility for the attack but warned against further gold mining in the region.RNZI
1i) https://www.rnz.co.nz/international/pacific-news/398180/church-group-claims-fiji-police-tried-to-seize-west-papua-flag
2a) https://www.lnc.nc/breve/le-debut-du-week-end-a-ete-agite-sur-noumea
2b) Quatre jeunes Si Nengone quittent leur île pour l'arméeMARÉ. Quatre jeunes de l'île ont présigné leur contrat avec l'armée de terre. Un grand changement pour eux, car ils devront quitter leur île pendant au moins trois ans.https://www.lnc.nc/article/iles/mare/quatre-jeunes-si-nengone-quittent-leur-ile-pour-l-armee2c) https://www.lnc.nc/article/nord/kone/la-poterie-traditionnelle-retrouve-des-couleurs-au-centre-culturel
3a ) Motion to suspend Fiji PM for two years defeated in parliament6 September 2019 Share this
A motion to suspend Fiji's prime minister for two years for allegedly assaulting an opposition MP has been defeated in the Fiji parliament.
The Privileges Committee today delivered a report on the incident between Frank Bainimarama and Pio Tikoduadua on 9 August.Despite a video appearing to show the Prime Minister grabbing and shoving the opposition MP, the committee says there's no evidence he was forcefully touched.

It recommends Mr Bainimarama apologise for abusing Mr Tikoduadua or be suspended for six months.
But SODELPA MP Filipe Tuisawau moved to amend this and extend the suspension to two years.
After hours of debate a vote was taken and the motion for the ammendement defeated 27 votes to 23 with one abstention.
As the government side celebrated their victory the opposition staged a walkout and were not present for the prime minister's official apology on the floor.
"I offer my unreserved apologies to him, to my colleagues, to the parliament and to you Mr Speaker Sir for my actions. I regret this event has caused a distraction from the vital work of the parliament in advancing the wellbeing of all Fijians," Frank Bainimarama said.
"I look forward to getting back to the national business of this parliament and to upholding the high standards of conduct the Fijian people deserve and expect from those elected to serve their interests."
Following the prime minister's apology the speaker adjourned parliament until Tuesday 12 November.RNZI
3b) https://www.rnz.co.nz/international/pacific-news/398192/world-s-first-kava-tissue-lab-opens-in-fiji
3c) https://www.rnz.co.nz/international/pacific-news/398203/fiji-miracle-baby-out-of-hospital-as-sorcery-rumours-abound

3d) https://www.rnz.co.nz/international/pacific-news/398199/fiji-issues-warning-over-nz-measles-outbreak
3e) https://fijivillage.com/news-feature/Prasad-says-it-is-inappropriate-to-curse-anyone-as-he-responds-to-Qereqeretabuas-Facebook-post-k5r2s9/

4a ) Vanuatu offered help to deal with rhino beetle
5 September 2019 Share this
The Vanuatu government has received offers of international assistance to deal with the ongoing operation to eradicate the invasive Coconut Rhinoceros Beetle, a senior official says.The Director General responsible for biosecurity, Moses Amos, said his ministry had received offers from New Zealand, Australia, the Philippines and Israel.

The beetle is considered a threat to the country's coconut industry and the government recently extended a state of emergency until 21 October to deal with the infestation.
Mr Amos said the offers of help showed that the international community was aware how the beetle could impact the Vanuatu.RNZI
4b ) Vanuatu minimum wage lifted
4:04 pm on 6 September 2019 Share this
The Vanuatu Minister of Home Affairs, Andrew Napuat, has increased the minimum wage by ten percent to $US1.59 per hour.
The Employment Act requires the minister to review the minimum wage every two years.
The Vanuatu Daily Post reported the minister saying he was aware of workers' wage concerns and at the rising cost of living, and this had prompted his move.RNZI
1) https://www.rnz.co.nz/international/pacific-news/398115/tanna-chiefs-petition-vanuatu-govt-to-introduce-death-penalty
4c) 2 NEW MINISTERS


By Glenda Willie Sep 6, 2019 0

A reshuffle was administered by Prime Minister Charlot Salwai yesterday afternoon in the presence of other ministers and Government MPs.

Minister for Youth and Sports, Simeon Seule resigned and was replaced by Leaders Party of Vanuatu MP, Francois Chani.

PM Salwai confirmed MP Seule will be elected as Speaker of Parliament today.

National United Party's MP for Ambrym, Bruno Leingkon also took his oath yesterday as he officially took the ministerial portfolio of the Ministry of Climate Change.

He replaces MP Ham Lini who stepped down as he is the Government's candidate for the position of Second Deputy Speaker.

The reshuffle has increased the total number of LPV portfolios to three.

The first Extraordinary Session resumes today and the parliament is expected to remove current Speaker of Parliament, Esmon Saimon and his Second Deputy, MP Toara Daniel Kalo.

During the swearing-in ceremony, Mr Salwai conveyed his appreciation to all the MPs who were present for continuing to remain firm and maintaining the stability in this coalition government.

He noted they are only a few months away from the end of their term in the 11th Legislature.

He also conveyed a special 'thank you' to MP Lini, a former Prime Minister for his continuous support and leadership in the government.
https://dailypost.vu/news/new-ministers/article_d43d53b5-5a74-5f84-ba90-e015e61737bb.html

5 ) PNG govt told to act now on SABLs
12:19 pm on 5 September 2019 Share this
The new Papua New Guinea government must act to clear up the mess around SABLs, or Special Agricultural Land Leases, an activist says.Millions of hectares of PNG's tropical forest are included within the SABLS in which foreign companies are harvesting the trees and planting plantations of palm oil.

The first leases were granted more than 10 years ago but a commission of inquiry concluded in 2013 that most of the SABLs were illegal and the contracts should be torn up.
A spokesperson for activist group Act Now!, Eddie Tanago, said new prime minister James Marape and lands Minister John Rosso needed to act.
The previous government had failed to do anything and six years after the inquiry, most of the SABLs remain in place, Mr Tanago said.
"They have claimed that most of the SABLs have been cancelled but we want to see evidence. We want to have a full list of them. Each one's status, showing which ones have been cancelled, which ones are still in operation so people are made aware of the current state of them," he said.RNZI
6) New Ireland landowners threaten to close airport
5 September 2019-RNZI Share this
Negotiations are underway between police and clan leaders in Papua New Guinea's New Ireland province after landowners threatened to shut a local airport.
The landowners threatened to shut down operations at Kunaye airport on Lihir island yesterday.
EMTV reported that a 24-hour notice to that effect was issued to Newcrest Mining Limited, developer of the Lihir gold mine.
Landowners are upset that they haven't been adequately compensated under the Mining Act for use of their land for Kunaye airport, a vital link for the Lihir mine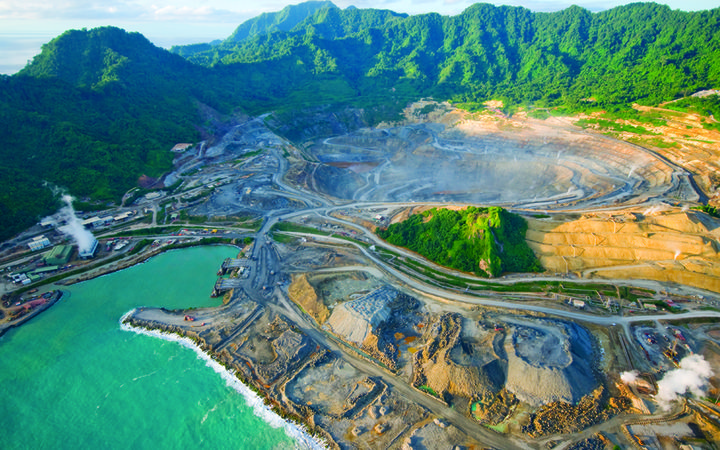 The Lihir gold mine in Papua New Guinea's New Ireland Province. Photo: Supplied/ Newcrest Mining Limited
7 ) https://www.rnz.co.nz/international/pacific-news/398252/another-call-for-png-to-cancel-sea-bed-mining-licences

8 ) PNG $US13 billion gas deal to go ahead
2:59 pm on 4 September 2019 Share this
Papua New Guinea will progress a gas deal with the French oil giant Total after renegotiation talks.Petroleum Minister Kerenga Kua visited Singapore last month in the hopes of revising the $US13 billion Papua LNG gas project in Gulf Province. Total is leading the project, with ExxonMobil and Oil Search as partners.

The government called for talks in August hoping to extract concessions from Total, as the new Prime Minister James Marape promised to deliver better economic outcomes soon after his election in May.
But in a statement on Tuesday, Mr Kua said the agreement will go ahead with Total committing only to a handful of non-legally binding changes.
The company will negotiate on allowing third parties to access the pipeline and the government will be able to purchase shares after paying off loans and costs.
Total has also promised to report on how much local equipment and services will be used and to consider jointly buying oil carriers with the state.
"Most of these are substantial new concessions on potential future benefits not previously available to the country under the signed agreement," Mr Kua said in the statement.
He added that the review of the LNG project "has demonstrated that the current concession based licencing system has failed Papua New Guinea in both the mining and petroleum industries."
Mr Kua said PNG's National Executive Council had asked himself and Mining Minister Johnson Tuke to rewrite laws so future deals would be signed under production sharing arrangements (PSAs).
"It is envisaged that a PSA will relieve the State of expensive loans and create early free cashflows in all future mining and petroleum projects," Mr Kua said.
9a ) https://www.rnz.co.nz/international/pacific-news/398201/port-moresby-not-a-durable-solution-for-manus-island-refugees

9b ) https://postcourier.com.pg/cheque-issued-gulf-govt-bounces/
9c ) https://www.rnz.co.nz/international/pacific-news/398189/png-police-deploy-to-wau-after-deadly-clashes

9d ) https://postcourier.com.pg/nidung-says-maritime-map-differs/
9e ) https://www.rnz.co.nz/international/pacific-news/398276/tragedy-at-indagen-png-pilot-questions-disaster-authority

9f ) https://www.rnz.co.nz/international/pacific-news/398198/bougainvilleans-to-pay-fee-over-eligible-voter-complaints
9g ) https://www.rnz.co.nz/international/pacific-news/398173/ousted-bougainville-secretary-taking-legal-action

9h ) https://postcourier.com.pg/bougainville-referendum-rushed-says-bird/
10a ) https://www.abc.net.au/radio-australia/programs/pacificbeat/china-promises-transition-rural-funding-to-sols-if-switches/11484516

10b ) Solomons PM says NCDs most serious challenge
5 September 2019 Share this
Non-communicable disease is the most urgent development challenge facing Solomon Islands, Prime Minister Manasseh Sogavare says.He told a roundtable meeting on NCDs in Honiara that while climate change was a serious challenge, addressing the diseases was more urgent.

Mr Sogavare said NCDs were killing thousands of people around the Pacific every year, in numbers that far outweighed those killed by climate change.
Global projections are for NCDs to cause nearly five times as many deaths as communicable diseases by 2030, he said.
By 2050 Solomon Islands could have 216,000 people with diabetes, costing the country $US60 million dollars annually, the prime minister said.
But if the incidence of diabetes was reduced by 1.5 percent each year until 2050, the estimated cost of managing diabetes in the country would be more like $US14 million, he said.
Mr Sogavare has called for a "roadmap" to be devised to halt and reverse the NCD crises.
The roadmap needed to clearly define the roles of each stakeholder, the interventions they are responsible for, the budgets that need to be provided in their respective ministries, agencies or organisations, and the indicators to measure progress.RNZI
10c ) https://www.rnz.co.nz/international/pacific-news/398264/solomons-police-cracking-down-on-roadblocks

10d ) https://www.rnz.co.nz/international/pacific-news/398197/solomons-slush-fund-not-threatened-by-possible-china-move
10e ) https://www.rnz.co.nz/international/pacific-news/398166/solomons-committee-looking-into-taiwan-china-question

10f ) https://www.abc.net.au/news/2019-08-31/timor-leste-independence-celebration/11467310?section=world

HEALTH:
11a ) https://postcourier.com.pg/unaids-regional-director-urges-govt-address-hiv/

11b ) https://postcourier.com.pg/bppl-denies-allegations-medicine/
EDUCATION:

12 ) https://www.abc.net.au/news/2019-09-07/beijing-university-set-to-teach-seven-pacific-island-languages/11474276?section=world

MULTI-MEDIA+:

13 ) Publishers of Samoa Observer guilty of defamation
4:40 pm on 4 September 2019 Share this
The publishers of the daily newspaper the Samoa Observer have been found guilty of defamation in the Supreme Court.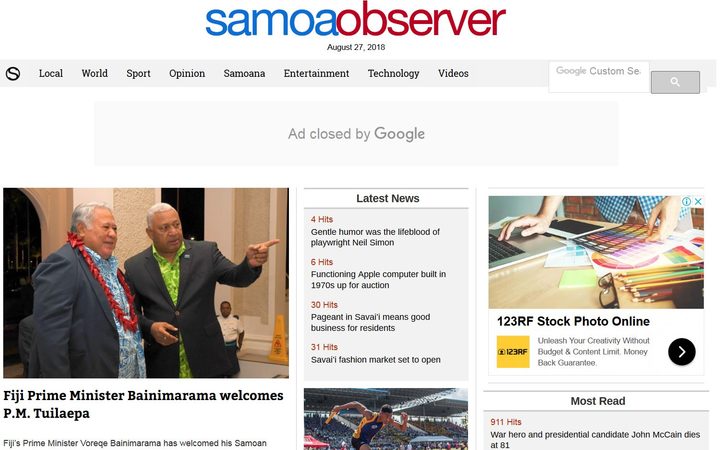 Photo: Samoa Observer
In her 25-page finding Justice Mata Keli Tuatagaloa said the defendant is the company who owns the newspaper that published a letter on 29 March 2017 titled, Stop this Madness: Church Stigmata row deepens.
The letter was penned by a person under the initials 'M.R.'
The action against the newspaper was launched by Reverend Opapo Soana'i Oeti and his daughter Toaipuapuaga Patrick.
They contended the letter lowered their estimation in the minds of right-thinking members of society.
Justice Tuatagaloa agreed with the plaintiffs.
The letter included references that members of the family had been fathered by someone other than their biological father, there was an incestous relationship, the plaintiffs were mentally impaired and there was an element of controlling and brainwashing involved.
"I find the comments in reference to a DNA test of the second plaintiffs' children and to the plaintiffs being sick in the head as degrading and are unfair comments; such comments do not serve any public interest at all and are not based on any true facts," Justice Tuatagaloa said.
Samoa Observer Editor, Mata'afa Keni Lesa gave evidence for the publication and said the letter was published as "fair comment".
The court has yet to rule on costs and damages.https://www.rnz.co.nz/international/pacific-news/398119/publishers-of-samoa-observer-guilty-of-defamation
14a ) https://fijivillage.com/news/REALB-Compliance-and-Monitoring-Officer-says-there-is-an-increase-in-illegal-agents-operating-on-Facebook-25ks9r/

14b ) https://fijivillage.com/news/Facebook-confirms-about-200-million-phone-numbers-from-members-have-been-exposed-on-online-database-2kr9s5/

BUSINESS:

15a ) https://www.thenational.com.pg/digicel-aims-to-invest-expand-services-in-rural-areas/

15b ) https://www.thenational.com.pg/govt-to-process-50pc-of-catches/
15c ) https://www.thenational.com.pg/bsp-relieves-customers-from-fees/
15d ) https://www.thenational.com.pg/air-nuigini-introduces-maintenance-facility/

15e ) https://www.thenational.com.pg/port-moresby-nadi-flight-starts/
CLIMATE CHANGE & ENVIROMENTAL ISSUES+

16a ) https://www.abc.net.au/news/2019-08-30/chinese-owned-mine-in-png-spills-200000-litres-of-toxic-slurry/11464108?section=world
16b ) https://dailypost.vu/news/communities-discuss-progress-in-coastal-fisheries-management/article_19f5e94e-9470-5f3d-a41d-d1804f3baba7.html

16c ) https://fijivillage.com/news/River-dredging-riverbank-protection-and-maintenance-of-drainage-infrastructures-to-be-carried-out-soon—Reddy-9krs52/
PACIFIC:

17a ) https://www.rnz.co.nz/international/pacific-news/398135/pacific-climate-change-centre-opens-in-samoa
17b ) https://www.rnz.co.nz/international/pacific-news/398245/nz-to-fund-staff-at-pacific-climate-change-centre

POLYNESIA:
18a ) https://www.rnz.co.nz/international/pacific-news/398215/seven-arrested-in-tonga-on-drugs-charges

18b ) https://www.rnz.co.nz/international/pacific-news/398143/a-tongan-without-the-tongue-a-cautionary-tale
18c ) https://www.rnz.co.nz/international/pacific-news/398224/us-based-tongan-artist-wins-nz-arts-residency

18d ) https://www.rnz.co.nz/international/pacific-news/398214/growing-concern-in-niue-over-premier-s-absence-opposition-mp

18e ) https://www.rnz.co.nz/international/pacific-news/398277/american-samoa-cashing-in-on-rogue-cargo-vessel

18f ) https://www.rnz.co.nz/international/pacific-news/398302/sopoanga-hopes-he-s-done-enough-for-re-election-when-tuvalu-goes-to-the-polls

18g ) https://www.rnz.co.nz/international/pacific-news/398179/women-s-group-angered-by-french-polynesia-union
MICRONESIA:

19a ) https://www.abc.net.au/news/2019-08-27/nauru-parliament-elects-new-president-lionel-aingimea/11454598?section=world
19b ) https://www.rnz.co.nz/international/pacific-news/398139/marshalls-confirms-first-dengue-death

19c ) https://www.rnz.co.nz/international/pacific-news/398204/new-book-teaching-palauan-children-to-care-for-nature

19d) https://www.rnz.co.nz/international/pacific-news/398292/second-case-of-dengue-confirmed-in-cnmi

AUSTRALIA & NEW ZEALAND:
20a ) https://www.abc.net.au/news/2019-09-03/australia-irrelevant-on-global-markets-says-analyst/11457918?section=world
20b ) https://www.rnz.co.nz/international/pacific-news/398262/air-chathams-starts-flights-to-norfolk-island

20c ) https://www.abc.net.au/news/2019-09-03/hong-kong-protesters-in-australia-to-meet-with-students/11470398?section=world
WORLD:

21a ) https://www.abc.net.au/news/2019-09-01/us-china-trade-war-escalates-with-additional-tariffs/11468922?section=world
21b ) https://www.abc.net.au/news/2019-09-05/chinas-ambassadorto-australua-labels-us-trade-war-bullying/11480490?section=world

21c ) https://www.abc.net.au/news/2019-09-05/carrie-lam-denies-shes-had-change-of-mind-over-extradition/11482978?section=world

21d ) https://www.abc.net.au/news/2019-09-06/robert-mugabe-dies-age-95/4002646?section=world

21e ) https://www.abc.net.au/news/2019-09-08/hong-kong-police-halt-protesters-attempts-to-choke-airport/11489672

21f ) https://fijivillage.com/news/Kim-Jong-un-chairs-emergency-meeting-as-Typhoon-Lingling-batters-the-country-529ksr/

21g ) https://fijivillage.com/news/Hurricane-Dorian-makes-landfall-in-Canada-k92rs5/

SPORT:

22a ) https://www.abc.net.au/news/2019-09-06/boomers-are-the-new-australias-team-basketball-world-cup/11484452?section=world
22b ) https://www.abc.net.au/radio-australia/programs/pacificmornings/moment-against-silence/11484686

22c ) https://www.abc.net.au/news/2019-09-08/nrl-scorecentre-wests-cronulla-penrith-newcastle/11482670

22d ) https://www.abc.net.au/news/2019-09-07/pacific-nations-hockey-teams-get-taste-of-generosity/11482626

22e ) https://www.abc.net.au/news/2019-09-07/nrl-scorecentre-raiders-warriors-bulldogs-broncos-titans-dragons/11481610

22f ) https://dailypost.vu/vanuatu_sports/sesfa-jampionsip-i-go-hed-long-erakor-fil/article_49b99696-c39b-5712-a41d-ecb17fc73654.html

22g ) https://dailypost.vu/vanuatu_sports/vanuatu-defeated-group-a-rivals-solomon-islands/article_178ff8f7-b6c7-5911-b581-f2936ffc9dad.html

22h ) https://www.rnz.co.nz/international/pacific-news/398261/pacific-rugby-legends-return-to-fight-ncds

22i ) https://www.rnz.co.nz/international/pacific-news/398263/sport-png-women-miss-out-on-t20-world-cup

22j ) https://www.rnz.co.nz/international/pacific-news/398219/sport-fiji-s-jerry-tuwai-nominated-for-7s-player-of-the-year

22k ) https://www.rnz.co.nz/international/pacific-news/398194/sport-issac-fotu-inspiring-pasifika-youth

22l ) https://www.rnz.co.nz/international/pacific-news/398291/sport-samoa-primed-to-cause-more-woes-for-the-wallabies

22m ) https://www.rnz.co.nz/international/pacific-news/398251/sport-tonga-league-players-threaten-boycott
22n ) https://www.rnz.co.nz/international/pacific-news/398290/sport-tonga-hoping-to-shock-all-blacks
22o ) https://www.rnz.co.nz/international/pacific-news/398150/sport-christchurch-roofer-to-start-against-all-blacks-on-test-debut
22p ) https://www.rnz.co.nz/international/pacific-news/398174/sport-guam-footballers-look-to-kick-on-in-qualifying