Smol Melanesian Na Pasifik Nius Digest Summary # 1135 (Tuesday 10 September 2019)

MELANESIA
1) Human Rights Watch calls for Indonesia to investigate Papua killings
3:25 pm on 9 September 2019 Share this
Human Rights Watch is demanding Indonesia urgently investigate the deaths of Papuans killed during protests across the country.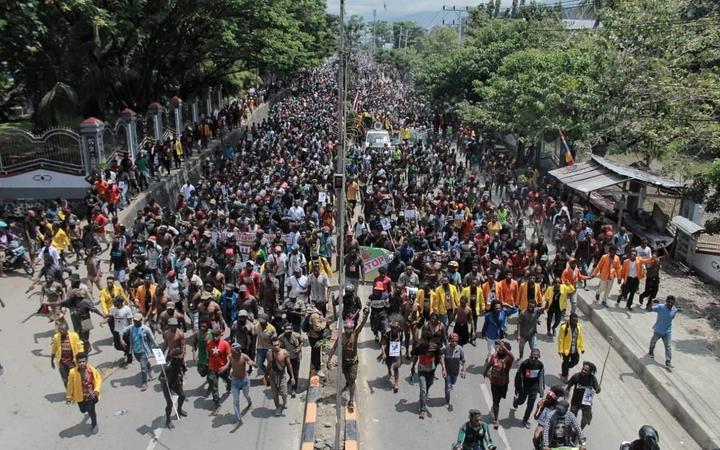 Protesters march in Jayapura. Photo: Whens Tebay
At least 10 people have been killed in the worst unrest to hit Papua in years, as thousands have taken part in anti-racism rallies.
Human Rights Watch's Australia Director, Elaine Pearson, says the deaths need to be investigated, including a bloody clash in Deiyai regency.
Indonesian police said at least five people and a soldier were killed in Deiyai when security forces were attacked during a riot on August 28.
A former Deiyai resident, John Pakage, said he and hundreds of others have fled the regency.
"The situation in Deiyai until now [is] tense. And then many military Indonesians come to West Papua, also Deiyai and many violence."
John Pakage said eight civilians were killed in Deiyai when soldiers opened fire on what he says was a peaceful demonstration. The claims are consistent with how the incident has been described by rights groups and activists.
A government-imposed internet blackout across Papua which has only been gradually lifted has made verifying information difficult.
A police spokesperson, Ahmad Mustofa Kamal, was quoted by local media as saying 14 people have been named suspects in connection with the Deiyai riot for crimes including unlawfully possessing firearms, opposing authorities and incitement.
News outlet Suara Papua reported on Thursday the West Papuan suspects are still undergoing treatment at a local hospital after they were injured in the clash.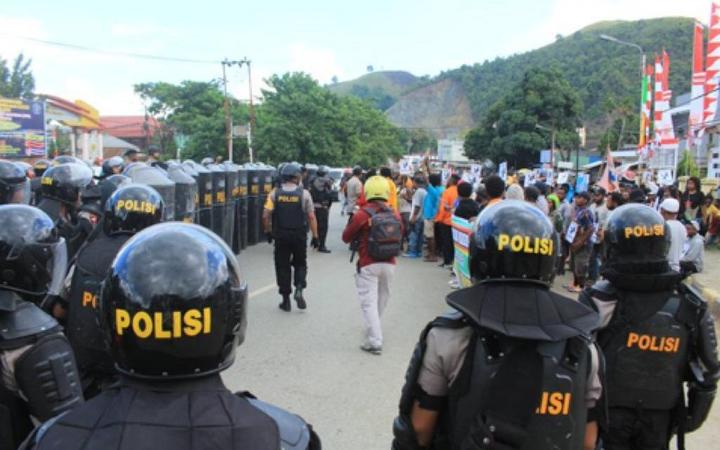 Police blockade the protest in Jayapura. Photo: Whens Tebay
In its statement on Saturday, Human Rights Watch said Indonesia should also investigate an alleged incident in Jayapura on September 1 when a vigilante mob, along with police and soldiers, stabbed a Papuan student to death and injured more than 20.
A video taken in Fakfak – where nationalist civilian militia groups have clashed with Papuan protestors – showing a disembowelled Papuan man should also be investigated, it added.
"Governments concerned about the unrest and violence in Papua should press the Indonesian government to take prompt action to end the bloodshed, protect the rights of all, and allow full and open reporting of the situation," Ms Pearson said.https://www.rnz.co.nz/international/pacific-news/398423/human-rights-watch-calls-for-indonesia-to-investigate-papua-killings2) Internet slowly returns to Papua and West Papua
| | |
| --- | --- |
| 3:39 pm GMT+12, 08/09/2019, Indonesia | |
Internet service has been gradually returning to Papua and West Papua since late Wednesday evening as security situation improves in Indonesia's two easternmost provinces after two weeks of violent pro-independence protests.

The government started throttling internet access in the two provinces following violent protests in Manokwari and Sorong in West Papua on Aug. 18 triggered by acts of racism against Papuan students in Semarang in Central Java and in Malang and Surabaya in East Java.

Officials argued that fake news and provocative information spread on social media had escalated the problems in Papua and West Papua.

"Since [security] situation has improved in several districts in Papua and West Papua, we started restoring internet access," Ferdinandus Setu, spokesman of the Communication and Informatics Ministry, said in a statement.

Internet access is still being restricted in Mimika, Paniai, Deiyai, Dogiyai, Jayawijaya, Pegunungan Bintang, Numfor and Jayapura in Papua. In West Papua, the same restriction still applies in the city of Sorong, the district of Sorong and Manokwari.

Normal internet access has been restored in 19 districts in Papua and 10 in West Papua.

"We urge that people refrain from spreading false news and false information, hate speech or provocation online, including on social media, so we can soon restore normal internet access to the whole of Papua and West Papua," the spokesman said


SOURCE: THE JAKARTA GLOBE/PACNEWS
3a )  https://www.rnz.co.nz/international/pacific-news/398405/un-rights-chief-unable-to-secure-west-papua-visit

3b ) http://www.solomonstarnews.com/index.php/news/national/item/21858-wale-msg-failed-west-papua
4a ) https://www.thenational.com.pg/probe-into-airfares/

4b ) https://www.thenational.com.pg/cooperatives-board-mine-unite-to-produce-quality-cocoa/
5a ) https://www.rnz.co.nz/international/pacific-news/398425/bougainville-referendum-body-encourages-voters-to-check-roll

5b) PNG cabinet to meet Wednesday in Bougainnville
4:01 pm on 9 September 2019 Share this
The Papua New Guinea cabinet is to meet in the Bougainville town of Buka on Wednesday.The historic event, postponed last month, comes just 10 weeks before the referendum on independence from PNG.

The Prime Minister James Marape will also address the Bougainville parliament, following a similar presentation to the national parliament by Bougainville President John Momis last month.
The Post Courier newspaper reports the agenda for the meeting will focus on Bougainville infrastructure projects and other Bougainville matters.
Mr Marape is also to launch a solar farm project at Wakanai before travelling to Buin in the south for a meeting on Friday of the Joint Supervisory Board, the agency that oversees the Bougainville peace process.RNZI
5c ) https://www.rnz.co.nz/international/pacific-news/398393/need-for-policing-boost-in-bougainville-mp
6a ) https://fijivillage.com/news/8-women-have-lost-their-lives-to-domestic-violence-this-year–95r2ks/
6b ) https://www.rnz.co.nz/international/pacific-news/398415/fiji-opposition-mp-may-appeal-suspension-nfp-leader

7a ) https://www.rnz.co.nz/international/pacific-news/398434/vanuatu-pm-denies-lack-of-consultation-over-proposed-reform

7b ) https://www.rnz.co.nz/international/pacific-news/398401/air-vanuatu-to-look-at-tahiti-links

7c ) https://dailypost.vu/news/new-epi-airstrip/article_df781c70-f65c-5c9d-a383-bb6926a66c8b.html

7d) ) https://www.abc.net.au/radio-australia/programs/pacificbeat/phoenix-life-sciences-former-ceo-charged-with-fraud/11490898
8a ) http://www.solomonstarnews.com/index.php/news/business/item/21861-kava-farmers-benefit

8b ) http://www.solomonstarnews.com/index.php/news/business/item/21856-433m-infrastructure-improvement-project-launched18c) Solomons FM to visit Taiwan as China diplomatic battle heats up
| | |
| --- | --- |
| 3:43 pm GMT+12, 08/09/2019, Taiwan | |
The Solomon Islands' top diplomat has arrived in Taiwan, Taipei's foreign ministry said, as the Pacific nation mulls switching its diplomatic allegiance to China.

In a statement, Taipei said Solomons foreign minister Jeremiah Manele will meet Taiwan's Pesident Tsai Ing-wen and his Taiwanese counterpart Joseph Wu during a five-day visit.

The Solomons are among only 17 nations to recognise Taiwan, but Prime Minister Manasseh Sogavare vowed to review the relationship after he was elected in April.

A switch would reduce the number of nations backing Taiwan as well as boost China's influence among the strategically important Pacific islands.

Taiwan is a democratic self-ruled island but Beijing regards it as part of its territory awaiting reunification, by force if necessary.

For the Solomons, where less than half the population has access to electricity, the debate offers a chance to weigh up promises of aid from Taipei and Beijing.

Government frontbencher Peter Shanel Agovaka, who led a recent ministerial delegation to Beijing to discuss the issue, told a parliamentary committee this week that his preference was to recognise China.

"We cannot sit for the next 40 years with our friends Taiwan. It is time that we make new friends," he said, arguing links with China would help boost the Pacific nation's economy.

The Solomon Islands' foreign affairs department has said no decision had been made and the issue would not be finalised until the cabinet had reviewed a task force report.

The Solomons' parliamentary foreign relations committee is accepting submissions on the Taiwan-China issue until the end of this month and has an October 31 deadline to report to the legislature.

Nations including Australia and the United States fear Beijing's interest is fuelled by a long-term goal to establish a military base in the islands, offering control of vast areas of the Pacific Ocean.

US Defence Secretary Mark Esper last month accused China of destabilising the region using such tactics, citing "predatory economics and debt-for-sovereignty deals".

However, China's ambassador to Samoa Chao Xiaoliang has labelled critics "ignorant" and "prejudiced", saying Beijing's main interest is forming partnerships to help Pacific nations.

Relations between Beijing and Taipei have plummeted since Tsai came to power in 2016 because her party refuses to recognise the idea that Taiwan is part of "one China".

SOURCE: AFP/PACNEWS
POLYNESIA

9a ) https://www.abc.net.au/radio-australia/programs/pacificbeat/tuvalu-2019-elections-underway/11490904
9b ) https://www.rnz.co.nz/international/pacific-news/398382/samoa-journalists-worried-about-proposed-whistleblower-law

9c ) https://www.rnz.co.nz/international/pacific-news/398404/french-polynesia-discusses-cable-with-chile

9d ) https://www.rnz.co.nz/international/pacific-news/398399/man-pleads-guilty-to-conspiring-to-assassinate-samoa-pm

AUSTRALIA & NEW ZEALAND

10a ) https://www.abc.net.au/news/2019-09-09/jacqui-lambie-returns-to-parliament-with-government-demands/11491190
10b ) https://www.abc.net.au/news/2019-09-09/property-market-recover-mortgage-surge-owner-occupier-investor/11491966

10c) NZ and Australia plan to lower remittances costs in Pacific
| | |
| --- | --- |
| 10:18 pm GMT+12, 08/09/2019, New Zealand | |
New Zealand is in talks with Australia to lower hefty money transfer fees in several Pacific Island countries, as "stubbornly high" costs strain the region's economies and hamper UN targets.
 
Remittances are a key source of earnings for many Pacific families who have relatives working abroad and the intervention comes as both Wellington and Canberra step up their engagement in the region.
 
The plans are part of a push to meet UN Sustainable Development Goals, which include a commitment to reduce remittance costs to less than three percent by 2030. In the Pacific, the average remittance costs are more than 10 percent, well above the global average of 7.1 percent.
 
New Zealand's Reserve Bank signed a Memorandum of Understanding with the Ministry of Foreign Affairs and Trade (MFAT) in March.
 
"This is a highly technical and market-based issue, which may never be fully resolvable without simply subsidising remittance costs," said a February MFAT briefing note, which was obtained under the Official Information Act. It's unclear whether remittance subsidies are being considered yet.
 
But New Zealand is exploring several options including linking the region's payments systems and improving customer verification to comply with anti-money laundering laws, documents showed. Some money transfer operators (MTOs) in the Pacific have been shut out by central banks over money laundering fears.
 
"Financial service providers in the Pacific are struggling to access and maintain bank accounts in New Zealand and Australia to enable their business," the MFAT briefing note said.
 
As New Zealand and Australia tighten financial regulations, MTOs in the Pacific are even looking to non-traditional platforms like Facebook's planned digital currency, Libra.
 
New Zealand has been working with its counterparts in Australia's Reserve Bank and Department of Foreign Affairs and Trade on the remittances project, documents said.
 
"We are now seeking a high-level commitment from Australia to work hand-in-hand with us on continuing to explore innovative options in this policy area."
 
No funding has been agreed to yet, but the Reserve Bank is seeking MFAT's "high-level buy-in" for the project….

SOURCE: RNZ PACIFIC/PACNEWS10d 10d ) https://www.rnz.co.nz/international/pacific-news/398421/new-zealand-appoints-new-high-commissioner-to-solomons

10e ) https://www.rnz.co.nz/international/pacific-news/398410/viral-measles-outbreak-in-auckland-has-pacific-nations-on-alert
PACIFIC
11a) Pacific's plastic problem 20 times the global average-http://www.pina.com.fj/index.php?p=pacnews&m=read&o=13142177765d75c3dcec69518fb095
11b ) https://www.rnz.co.nz/international/pacific-news/398396/us-to-fund-opioid-fight-in-guam-fsm-american-samoa
WORLD
12a ) https://www.abc.net.au/radio-australia/programs/am/hong-kong-protesters-march-to-american-consulate-in-pro-us-rally/11490850
12b ) https://www.abc.net.au/radio-australia/programs/worldtoday/boris-johnson-loses-another-cabinet-minister/11492072
12c ) https://www.abc.net.au/news/2019-09-09/typhoon-faxai-hits-tokyo-area-causing-transport-chaos/11492592
12d ) https://fijivillage.com/news/Storm-cuts-power-to-900000-homes-in-Japan–9k2sr5/
SPORT
14a) World Rugby refute Steve Hansen's Pacific Islands criticism- http://www.pina.com.fj/index.php?p=pacnews&m=read&o=1194115855d75c65d8439f175d812d
14b ) https://www.thenational.com.pg/schuster-hails-oceania-rugby-cup-a-success/
14c ) https://www.thenational.com.pg/tigers-claim-cup/
14d  http://www.solomonstarnews.com/index.php/sports/national/item/21804-u-23-squad-named
4e  https://dailypost.vu/vanuatu_sports/vanuatu-golf-open/article_e8c31c15-3bfa-5717-b537-8efccf4ed99c.html

14f ) https://dailypost.vu/vanuatu_sports/host-announcement-oceania-area-championships/article_34623ea0-8234-5720-865c-b42e013d57aa.html

14g ) https://www.rnz.co.nz/international/pacific-news/398411/sport-samoa-sweating-on-injuries-before-world-cup-departure
14h ) https://fijivillage.com/sport/Bianca-Andreescu-beats-Serena-Williams-to-take-US-Open-s5k2r9/